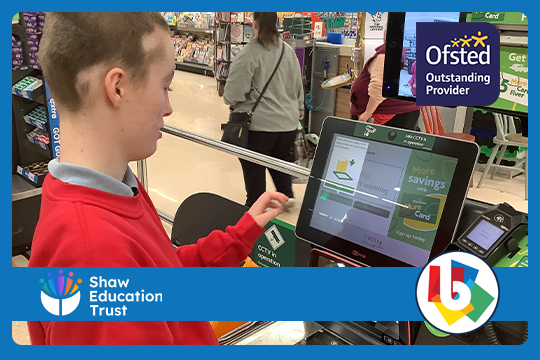 Exciting News Alert!
Hold onto your hats because Blackfriars Academy is on cloud nine after snagging an absolutely Outstanding rating from Ofsted!
Over the course of two days, the inspection highlighted many strengths across various aspects of our school, showcasing the commitment of our staff and students to creating a positive learning environment.
Throughout the inspection, the Blackfriars team were assisted by our incredibly proactive and supportive Academy Council and three members of the SET Central Team who contributed to the process.
Below is a summary of both the verbal feedback received and quotes from the report itself in which can be read in its entirety at: https://files.ofsted.gov.uk/v1/file/50233033
Student Wellbeing and Safety:
Our staff, equipped with confidence, address concerns promptly, fostering an environment where students feel safe and supported.
Students are empowered to speak up through avenues such as peer mentors, ensuring a secure and open atmosphere.
Safeguarding is a top priority, with staff adeptly monitoring changes in behaviour reinforcing the principle that all students have a voice.
It's Official, Blackfriars maintains its outstanding status!
Academic Progress and Engagement:
Prioritizing reading, our school carefully selects books aligned with students' abilities, fostering engagement through 'The Big Read.'
The effective monitoring of the progress students make in phonics ensures continuous improvement in students' literacy skills.
Lessons are delivered with passion and meticulous planning, cultivating a sense of trust and engagement between students and staff.
Clear lesson delivery, skilful questioning, and meaningful resources contribute to a deep understanding of subjects.
Communication and Inclusion:
Communication is interwoven throughout the school, with a focus on understanding and meeting each child's unique needs.
Staff expertly model Makaton, and communication aids are used to support students, especially those with complex needs.
PSHE planning is transparent, well-sequenced, and connects to real world scenarios, fostering pride in students' achievements.
Positive Behaviour and Relationships:

Well-defined behaviour expectations contribute to a positive school culture, evident in engaged, cooperative, and respectful student interactions.
Leadership opportunities, including peer mentoring and personalised career guidance, further enhance our positive school environment.
Students showcase exceptional behaviour, mutual respect, and a collaborative spirit among students.
Preparation for Adulthood:
Our dedicated Preparation for Adulthood room emphasizes tailored career opportunities and supportive structures for students' next steps.
Collaborative staff efforts and a supportive atmosphere foster a sense of belonging and family within our school community, giving our students the best possible chances for next steps, whatever that is.
Overall, students are prepared well for their next stages.
Overall Positive Atmosphere:
Blackfriars Academy is distinguished by its overwhelmingly positive environment, with students and staff motivated by clear communication and a shared commitment to transformation.
In conclusion, our outstanding OFSTED report reflects the dedication and passion of the entire Blackfriars Academy community. We are immensely proud of the positive learning environment we have
cultivated, preparing students for success in their academic and personal journeys and beyond.
Visit Blackfriars Academy Website: Blackfriars Academy | Welcome to Blackfriars Academy - Proudly part of the Shaw Education Trust